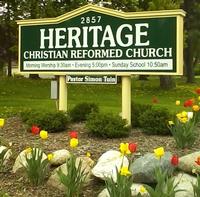 Heritage Christian Reformed Church became a reality June 7, 1987 when we met for Worship for the first time as the merger of three former Christian Reformed churches. Our history dates back to 1869 when the Christian Reformed church was first established in Kalamazoo.
The name HERITAGE was chosen to represent over 200 years of heritage the newly merged church shared, as well as our common heritage in Christ. Our roots go back even further to the Protestant Reformation over 500 years ago and the teachings of John Calvin (1509-1564).
Our current pastor, Rev. Simon Tuin, was ordained in 1999 and served as our associate pastor until 2004 when he became Resident Pastor. Former pastors were Rev. Allan H. Jongsma from 1988 to 1996, Rev. Gary M. Stevens from 1996 to 2002 and Rev. Ronald Redder as interim pastor from 2002 to 2003.
Some of the many activities in which we are involved include weekly summer ministry to children at a nearby apartment complex, Ladies Coffee Break ministry, supporting the Jesus Loves Kalamazoo ministry, our annual Fall Carnival and working in conjunction with Oshtemo Area Churches (OAC) with monthly food distribution.
We financially support many organizations, including Kalamazoo Deacons Conference, Kalamazoo Gospel Mission, Resonate Global Missions, World Renew, Wycliffe Bible Translators, as well as other mission outreaches.
Heritage CRC is blessed with an enthusiastic, knowledgeable, and encouraging pastor, a beautiful facility in which to Worship our Living God, and a giving, supportive and loving congregation that readily volunteers their time for the many endeavors and challenges God has sent our way!